Need a trustworthy roofer near you?
Take a look below at what our customers have to say about us and the quality roofing service we provide
We wanted to write to you just to pass on our thanks for the high standard of repair that was carried out to our roof.
We are very pleased with the end result and have confidence in a job well done. Janet was particularly grateful for the care that was taken in the garden when working and also ensuring the dog didn't escape which meant a lot to her.
Alan & Janet Milner
I am very pleased with the completed works, especially the new rainwater goods and appreciated the courteous and helpful way your scaffolders and workmen undertook these works. I would not hesitate to recommend your firm to my family, friends and neighbours in the future.
A W S Dale
Both scaffolding work & cladding work was well done, with efficiency & care to my property.
My thanks to all concerned.
S Peacock
Many thanks for the excellent roofing work and leaving the place even tidier than you found it!
Dot Francis
Both Anne and I are delighted with the result and we would like you to pass on our thanks to the team, for all the hard work you have put in to getting the job done so efficiently and quickly.
Anne & John Morgan
I live in Semington, Trowbridge and have just had my home re-roofed by Marden Roofing.
I would like to commend them as a company on the various aspects of their work. They work to a high standard, were very courteous and friendly and always left the place tidy and clean after each day.
Indeed we were left over one weekend with only felt on the roof and it rained all of Saturday and we had no leaks at all. This gave us confidence in their workmanship and the finished product. Thank you therefore for employing an excellent company who made what might have been a traumatic period very easy.
Davis Tarsnane
Thank you so much for your help and co-operation in arranging a new roof on my home. Every promise that you made was kept, which was reassuring to my wife and I as we underwent a major change to our home.
I cannot speak too highly of the expertise, hard work, courtesy and willingness of your team of craftsmen - all of whom worked so well together. We were extremely impressed at their speed and efficiency in removing both the old roof and building the new one, especially at a time of year when weather conditions were to unpredictable.
We were also amazed at how you managed to get the suppliers of ancillery equipment - scaffolding etc - to keep to the times you set for delivery and removal. Well done!
Trevor Watkins
We would like to take the opportunity to say how very pleased we are with the workmanship and professionalism of your workforce. The lads worked very quickly and cleanly producing an excellent finished result. We will not hesitate in recommending Marden Roofing.
S Spencer & B Miller
Thank you so much for the efficient, courteous and extremely well organised work on the roof. We are very glad to praise you to neighbours who were very impressed at the speed which you did all the work.
M Pennell
I'd like to take this opportunity to let you know how pleased we are with your high standard of planning, organisation and general workmanship. All your tradesmen were extremely courteous and easy to get on with, and there was the absolute minimum of disruption in fact you would hardly know they had been. I'd be obliged if you would pass this on – credit where credit is due!
G Coker
Many thanks for an excellent job and special thanks to the craftsmen who were outstanding. I would not hestiate to recommend your company.
Mr Harris
Your client Mr Harris took the trouble to call me at the NFRC and expressed his admiration for the excellent manner in which your company carried out his roofing works. Congratulations.
Graham Nye - National Federation of Roofing Contractors
May I congratulate you on completing the job in the promised time and in a professional manner. It is a refreshing change to come across trade-persons nowadays who actually honour their promises and are easy to deal with. You can sure that if we need any further work doing to our property relating to roofing then we will certainly come to you first
John Gymer
The Museum Committee have asked me to thank you for looking after us so well. We are very pleased with what you have done. We can all rest in peace now on windy nights!
Market Lavington Museum
We are well satisfied with the finished result and were very pleased with the manner in which John, Derek and Nick carried out the work.
Malcolm & Eunice Jeal
I am most grateful and will entirely recommend Marden Roofing to others.
Mrs Robinson
The new roof looks very smart and has been well tested for leaks these past few weeks - passed OK! Your workers were very helpful and professional and we were very pleased to have them here.
PJ 0'Brien
Projects You May Be Interested In...
Garden Office with Slate Roof in Devizes
Natural spanish slate roof on new build garden office in Easterton near Devizes. Building designed and built by The Classic Barn Company.
Read More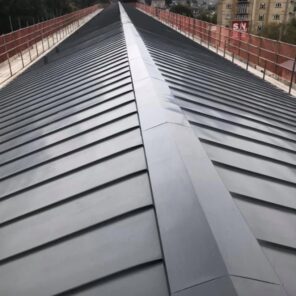 Bath Copper Roof Refurbished in Zinc
Copper roof belonging to a block of local authority flats in Bath, refurbished in zinc.
Read More