Whatever your roofing requirements, we have got you covered; we specialise in all types of roofing, uPVC fascias, soffits & guttering, leadwork and much more
Read on below to find out more about the wide range of roofing services we offer
Re-Roofing of Existing Buildings
Marden Roofing have extensive experience in re-roofing properties of all ages. We are also fully conversant with works to Listed Buildings.
Our wide range of roofing expertise includes re-roofing projects that require slating, tiling, stone tiling, cedar shingles and most other roofing based materials.
New Roofing Works Including Self Build Projects
We are quite happy to quote on a roof for your new extension, conversion, self build home or similar project and offer a competitive quality roofing service.
Chimneys & Sundry Building Work
Whilst working on projects we frequently find that chimneys need rebuilding or repointing, gables need repointing or require a coat of water repellent; Marden Roofing have staff capable of carrying out these types of work together with timber repairs and replacement, if required.
Insurance Work
We are approved by many insurance companies for various roofing, re-roofing and repairs and always respond swiftly to our customers. Marden Roofing also carry comprehensive roofing related insurance for your own peace of mind and protection.
Roofing Leadwork Including Lead Flashing
Marden Roofing employ a number of staff who are capable of burning lead and forming ornamental roses, collars, valleys and other related items. We also carry out all forms of leadwork from leading full roofs to roof flashing.
Roofing Repairs & Roofing Emergency Work
Marden Roofing are qualified to carry out minor and major roofing repairs, together with temporary roofing repairs that will get you watertight as quickly as possible and protect your most valuable assets. Marden Roofing do not consider any job too small.
uPVC Fascias & Soffits
With uPVC we specialise in a full replacement system comprising of 16mm replacement fascia board and solid soffits rather than the cap over system, which many of our roofing competitors use.
When we replace timber fascias and soffits we use the best treated timber available from a renewable resource.
Rainwater Goods
Marden Roofing can offer advice on a wide range of products from uPVC to aluminium, cast iron gutters and downpipes in all available profiles.
Asbestos Removal
Our staff are fully qualified in the safe handling and removal of non licenced asbestos material.
We are registered with the Environment Agency for the transportation and disposal of non licensed asbestos waste and adhere to strict codes of practice.
Projects You May Be Interested In...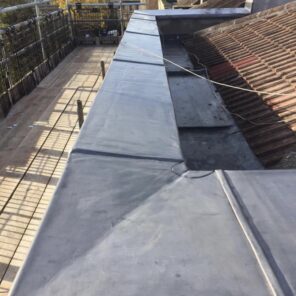 Lead Roofing on Listed Heritage Building in Bristol
Lead roofing and flashing on listed heritage build in Bristol.
Read More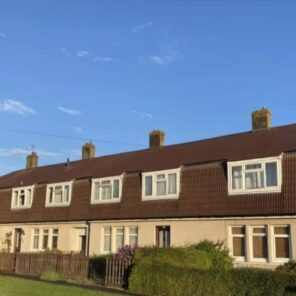 Tiled Mansard Roof for Wiltshire Local Authority
Tiled Mansard style roof, completed for local authority in Marlborough, Wiltshire.
Read More